Inspiration Store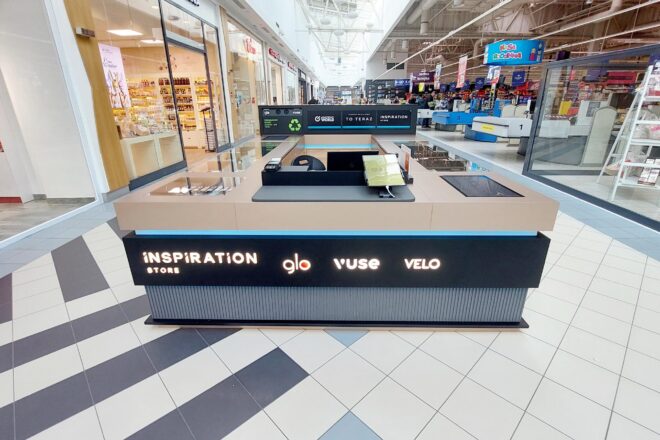 Inspiration Store to zdecydowanie miejsce klasy premium, gdzie minimalistyczna i ekskluzywna przestrzeń łączy się z szeroką i rozbudowaną ofertą. To punkt, w którym znajdziesz:
podgrzewacze tytoniu,
e-papierosy,
saszetki nikotynowe,
liquidy polskiej produkcji.
Nowatorskie rozwiązania i wykwalifikowani Doradcy Klienta to nasza siła. Inspiration Store to nowoczesność i odpowiedzialność – wysoka jakość przebadanych produktów, ale także klarowny proces reklamacyjny, najczęściej zakończony szybko w punkcie sprzedaży.
PROMOCJE W Inspiration Store

Warning: Invalid argument supplied for foreach() in /galeria_nowa/wp-content/themes/gp/temp/sub-shop.php on line 72

Warning: Invalid argument supplied for foreach() in /galeria_nowa/wp-content/themes/gp/temp/sub-shop.php on line 72

Warning: Invalid argument supplied for foreach() in /galeria_nowa/wp-content/themes/gp/temp/sub-shop.php on line 72

Warning: Invalid argument supplied for foreach() in /galeria_nowa/wp-content/themes/gp/temp/sub-shop.php on line 72

Warning: Invalid argument supplied for foreach() in /galeria_nowa/wp-content/themes/gp/temp/sub-shop.php on line 72

Warning: Invalid argument supplied for foreach() in /galeria_nowa/wp-content/themes/gp/temp/sub-shop.php on line 72

Warning: Invalid argument supplied for foreach() in /galeria_nowa/wp-content/themes/gp/temp/sub-shop.php on line 72

Warning: Invalid argument supplied for foreach() in /galeria_nowa/wp-content/themes/gp/temp/sub-shop.php on line 72

Warning: Invalid argument supplied for foreach() in /galeria_nowa/wp-content/themes/gp/temp/sub-shop.php on line 72

Warning: Invalid argument supplied for foreach() in /galeria_nowa/wp-content/themes/gp/temp/sub-shop.php on line 72

Warning: Invalid argument supplied for foreach() in /galeria_nowa/wp-content/themes/gp/temp/sub-shop.php on line 72

Warning: Invalid argument supplied for foreach() in /galeria_nowa/wp-content/themes/gp/temp/sub-shop.php on line 72

Warning: Invalid argument supplied for foreach() in /galeria_nowa/wp-content/themes/gp/temp/sub-shop.php on line 72

Warning: Invalid argument supplied for foreach() in /galeria_nowa/wp-content/themes/gp/temp/sub-shop.php on line 72

Warning: Invalid argument supplied for foreach() in /galeria_nowa/wp-content/themes/gp/temp/sub-shop.php on line 72

Warning: Invalid argument supplied for foreach() in /galeria_nowa/wp-content/themes/gp/temp/sub-shop.php on line 72

Warning: Invalid argument supplied for foreach() in /galeria_nowa/wp-content/themes/gp/temp/sub-shop.php on line 72

Warning: Invalid argument supplied for foreach() in /galeria_nowa/wp-content/themes/gp/temp/sub-shop.php on line 72

Warning: Invalid argument supplied for foreach() in /galeria_nowa/wp-content/themes/gp/temp/sub-shop.php on line 72

Warning: Invalid argument supplied for foreach() in /galeria_nowa/wp-content/themes/gp/temp/sub-shop.php on line 72

Warning: Invalid argument supplied for foreach() in /galeria_nowa/wp-content/themes/gp/temp/sub-shop.php on line 72

Warning: Invalid argument supplied for foreach() in /galeria_nowa/wp-content/themes/gp/temp/sub-shop.php on line 72

Warning: Invalid argument supplied for foreach() in /galeria_nowa/wp-content/themes/gp/temp/sub-shop.php on line 72

Warning: Invalid argument supplied for foreach() in /galeria_nowa/wp-content/themes/gp/temp/sub-shop.php on line 72

Warning: Invalid argument supplied for foreach() in /galeria_nowa/wp-content/themes/gp/temp/sub-shop.php on line 72

Warning: Invalid argument supplied for foreach() in /galeria_nowa/wp-content/themes/gp/temp/sub-shop.php on line 72

Warning: Invalid argument supplied for foreach() in /galeria_nowa/wp-content/themes/gp/temp/sub-shop.php on line 72

Warning: Invalid argument supplied for foreach() in /galeria_nowa/wp-content/themes/gp/temp/sub-shop.php on line 72

Warning: Invalid argument supplied for foreach() in /galeria_nowa/wp-content/themes/gp/temp/sub-shop.php on line 72

Warning: Invalid argument supplied for foreach() in /galeria_nowa/wp-content/themes/gp/temp/sub-shop.php on line 72

Warning: Invalid argument supplied for foreach() in /galeria_nowa/wp-content/themes/gp/temp/sub-shop.php on line 72