Kolejkoland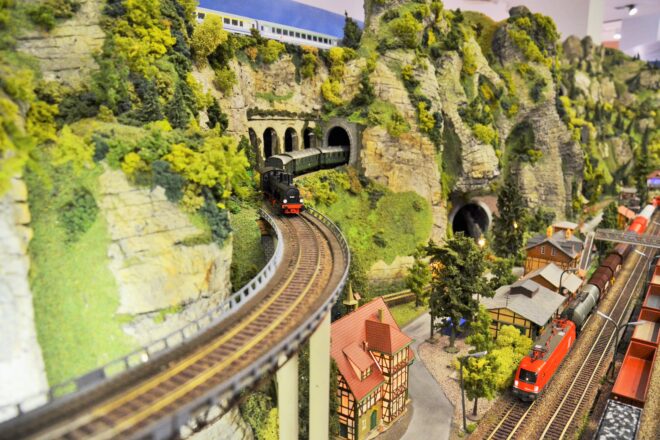 Kolejkoland to wystawa na którą zapraszamy nie tylko miłośników kolei. Powstała dzięki twórczym działaniom pasjonatów. Jest jedyną w Polsce mobilną ekspozycją, na której można zobaczyć unikatowy, bajkowy świat ruchomych miniatur prawdziwych pociągów. Ekspozycja gwarantuje wyśmienitą zabawę, mnóstwo wrażeń i możliwość przeniesienia się w zaczarowane, niecodzienne miejsce.
Kraina Kolejkoland jest sztuką rękodzieła, zachwycająca swoją rozmachem i stopniem odwzorowania. Prezentowane na makietach krajobrazy są autorską wizją świata kreowanego przez jego twórców. Wystawa skierowana jest do dzieci i młodzieży oraz dorosłej części odbiorców. Dla wielu osób jest to emocjonalny powrót do lat dzieciństwa.
Ekspozycja składa się ze stref aktywności w których nie tylko można oglądać makiety z poruszającymi się kolejkami. Interaktywny system umożliwiający zwiedzającym samodzielne uruchamianie dedykowanych pociągów oraz elementy scenograficzne pełniące funkcję edukacyjną i pobudzające kreatywne działania to unikatowe propozycje.
Wszystkie strefy wystawy posiadają walory oświatowe, które wykorzystywane są w codziennych zajęciach warsztatowych dla dzieci i młodzieży. Kolejkoland realizuje takie działania również na wyjazdach, odwiedza przedszkola, szkoły i różnego rodzaju imprezy, gdzie w formie zabawowej prezentuje podstawowe zagadnienia związane z kolejnictwem i transportem szynowym. Aby zaprosić wystawę do siebie wystarczy skontaktować się z recepcją – szczegółowe informacje znajdują się na stronie www.kolejkoland.pl
Wystawa otwarta:
wtorek – sobota
od 11:00 do 19:00
PROMOCJE W Kolejkoland

Warning: Invalid argument supplied for foreach() in /galeria_nowa/wp-content/themes/gp/temp/sub-shop.php on line 72

Warning: Invalid argument supplied for foreach() in /galeria_nowa/wp-content/themes/gp/temp/sub-shop.php on line 72

Warning: Invalid argument supplied for foreach() in /galeria_nowa/wp-content/themes/gp/temp/sub-shop.php on line 72

Warning: Invalid argument supplied for foreach() in /galeria_nowa/wp-content/themes/gp/temp/sub-shop.php on line 72

Warning: Invalid argument supplied for foreach() in /galeria_nowa/wp-content/themes/gp/temp/sub-shop.php on line 72

Warning: Invalid argument supplied for foreach() in /galeria_nowa/wp-content/themes/gp/temp/sub-shop.php on line 72

Warning: Invalid argument supplied for foreach() in /galeria_nowa/wp-content/themes/gp/temp/sub-shop.php on line 72

Warning: Invalid argument supplied for foreach() in /galeria_nowa/wp-content/themes/gp/temp/sub-shop.php on line 72

Warning: Invalid argument supplied for foreach() in /galeria_nowa/wp-content/themes/gp/temp/sub-shop.php on line 72

Warning: Invalid argument supplied for foreach() in /galeria_nowa/wp-content/themes/gp/temp/sub-shop.php on line 72

Warning: Invalid argument supplied for foreach() in /galeria_nowa/wp-content/themes/gp/temp/sub-shop.php on line 72

Warning: Invalid argument supplied for foreach() in /galeria_nowa/wp-content/themes/gp/temp/sub-shop.php on line 72

Warning: Invalid argument supplied for foreach() in /galeria_nowa/wp-content/themes/gp/temp/sub-shop.php on line 72

Warning: Invalid argument supplied for foreach() in /galeria_nowa/wp-content/themes/gp/temp/sub-shop.php on line 72

Warning: Invalid argument supplied for foreach() in /galeria_nowa/wp-content/themes/gp/temp/sub-shop.php on line 72

Warning: Invalid argument supplied for foreach() in /galeria_nowa/wp-content/themes/gp/temp/sub-shop.php on line 72

Warning: Invalid argument supplied for foreach() in /galeria_nowa/wp-content/themes/gp/temp/sub-shop.php on line 72

Warning: Invalid argument supplied for foreach() in /galeria_nowa/wp-content/themes/gp/temp/sub-shop.php on line 72

Warning: Invalid argument supplied for foreach() in /galeria_nowa/wp-content/themes/gp/temp/sub-shop.php on line 72

Warning: Invalid argument supplied for foreach() in /galeria_nowa/wp-content/themes/gp/temp/sub-shop.php on line 72

Warning: Invalid argument supplied for foreach() in /galeria_nowa/wp-content/themes/gp/temp/sub-shop.php on line 72

Warning: Invalid argument supplied for foreach() in /galeria_nowa/wp-content/themes/gp/temp/sub-shop.php on line 72

Warning: Invalid argument supplied for foreach() in /galeria_nowa/wp-content/themes/gp/temp/sub-shop.php on line 72

Warning: Invalid argument supplied for foreach() in /galeria_nowa/wp-content/themes/gp/temp/sub-shop.php on line 72

Warning: Invalid argument supplied for foreach() in /galeria_nowa/wp-content/themes/gp/temp/sub-shop.php on line 72

Warning: Invalid argument supplied for foreach() in /galeria_nowa/wp-content/themes/gp/temp/sub-shop.php on line 72

Warning: Invalid argument supplied for foreach() in /galeria_nowa/wp-content/themes/gp/temp/sub-shop.php on line 72

Warning: Invalid argument supplied for foreach() in /galeria_nowa/wp-content/themes/gp/temp/sub-shop.php on line 72

Warning: Invalid argument supplied for foreach() in /galeria_nowa/wp-content/themes/gp/temp/sub-shop.php on line 72

Warning: Invalid argument supplied for foreach() in /galeria_nowa/wp-content/themes/gp/temp/sub-shop.php on line 72

Warning: Invalid argument supplied for foreach() in /galeria_nowa/wp-content/themes/gp/temp/sub-shop.php on line 72