BIG STAR
Od 1979 roku jeansy sygnowane znakiem wielkiej gwiazdy są gwarancją najwyższej jakości i designu zgodnego z aktualnymi trendami.
Od prawie 40 lat jeansy to dla BIG STAR żelazny element oferty, na przestrzeni lat uzupełniany o kolejne części garderoby oraz modowe dodatki.
Aktualnie w ofercie marki można znaleźć kompleksowy wybór kurtek, bluz, swetrów, koszul, t-shirtów, sukienek, a także wszelkich dodatków, począwszy od czapek na butach kończąc.
Dla projektantów BIG STAR praca jest pasją, odzież sztuką użytkową, a jeansy elementem kultury. Ta autentyczność i zaangażowanie sprawia, że marka sukcesywnie zdobywa lojalność Klientów w Polsce i kolejnych krajach Europy i Azji.
Obecnie to ponad 180 sklepów w Polsce oraz 60 punktów sprzedaży w Europie i Azji, a sieć ogólnopolska, jak i zagraniczna, sukcesywnie się rozrasta.
Dla BIG STAR zaufanie i lojalność Klientów to zobowiązanie do dostarczania produktów zgodnych z ich oczekiwaniami i odpowiadających zmieniającym się na przestrzeni lat trendom.
Niezmienna jest jedynie jakość charakteryzująca produkty spod znaku wielkiej gwiazdy. I tak od 1979 roku.
+48 883 338 399
HONORUJEMY GALERY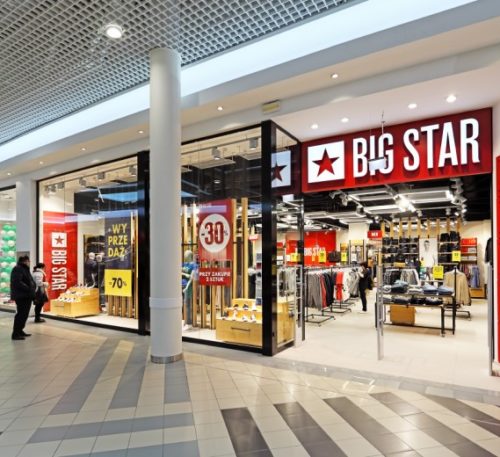 PROMOCJE W BIG STAR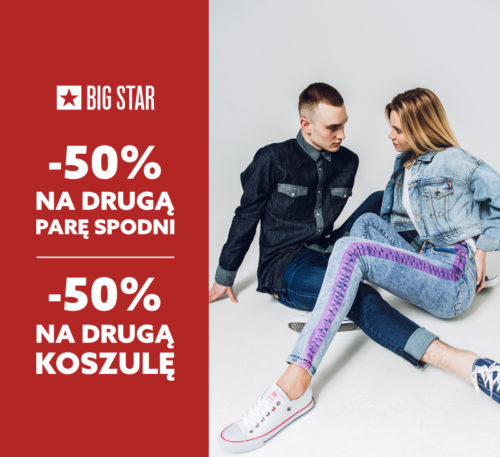 12 kwietnia 2019
Do 15 kwietnia 2 promocje w BIG STAR. -50% na drugą parę spodni i -50% na drugą koszulę. Promocje są od siebie niezależne.
Warning
: Invalid argument supplied for foreach() in
/galeria_nowa/wp-content/themes/gp/sub-shop.php
on line
70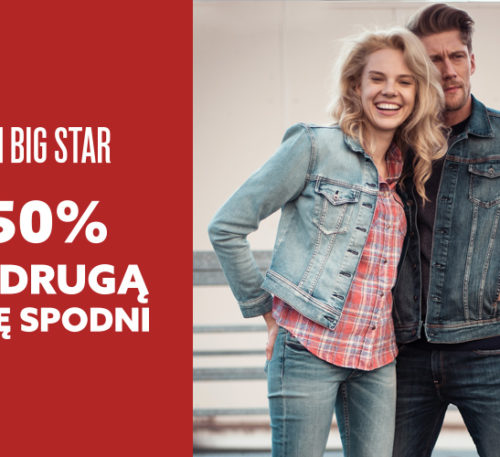 29 marca 2019
Do 1 kwietnia -50% na drugą parę spodni w BIG STAR. To nie primaprillisowy żart ;)
Warning
: Invalid argument supplied for foreach() in
/galeria_nowa/wp-content/themes/gp/sub-shop.php
on line
70
Warning
: Invalid argument supplied for foreach() in
/galeria_nowa/wp-content/themes/gp/sub-shop.php
on line
70
Warning
: Invalid argument supplied for foreach() in
/galeria_nowa/wp-content/themes/gp/sub-shop.php
on line
70
Warning
: Invalid argument supplied for foreach() in
/galeria_nowa/wp-content/themes/gp/sub-shop.php
on line
70
Warning
: Invalid argument supplied for foreach() in
/galeria_nowa/wp-content/themes/gp/sub-shop.php
on line
70
Warning
: Invalid argument supplied for foreach() in
/galeria_nowa/wp-content/themes/gp/sub-shop.php
on line
70
Warning
: Invalid argument supplied for foreach() in
/galeria_nowa/wp-content/themes/gp/sub-shop.php
on line
70
Warning
: Invalid argument supplied for foreach() in
/galeria_nowa/wp-content/themes/gp/sub-shop.php
on line
70
Warning
: Invalid argument supplied for foreach() in
/galeria_nowa/wp-content/themes/gp/sub-shop.php
on line
70
Warning
: Invalid argument supplied for foreach() in
/galeria_nowa/wp-content/themes/gp/sub-shop.php
on line
70
Warning
: Invalid argument supplied for foreach() in
/galeria_nowa/wp-content/themes/gp/sub-shop.php
on line
70
Warning
: Invalid argument supplied for foreach() in
/galeria_nowa/wp-content/themes/gp/sub-shop.php
on line
70
Warning
: Invalid argument supplied for foreach() in
/galeria_nowa/wp-content/themes/gp/sub-shop.php
on line
70
Warning
: Invalid argument supplied for foreach() in
/galeria_nowa/wp-content/themes/gp/sub-shop.php
on line
70
Warning
: Invalid argument supplied for foreach() in
/galeria_nowa/wp-content/themes/gp/sub-shop.php
on line
70
Warning
: Invalid argument supplied for foreach() in
/galeria_nowa/wp-content/themes/gp/sub-shop.php
on line
70
Warning
: Invalid argument supplied for foreach() in
/galeria_nowa/wp-content/themes/gp/sub-shop.php
on line
70
Warning
: Invalid argument supplied for foreach() in
/galeria_nowa/wp-content/themes/gp/sub-shop.php
on line
70
Warning
: Invalid argument supplied for foreach() in
/galeria_nowa/wp-content/themes/gp/sub-shop.php
on line
70
Warning
: Invalid argument supplied for foreach() in
/galeria_nowa/wp-content/themes/gp/sub-shop.php
on line
70