BIG STAR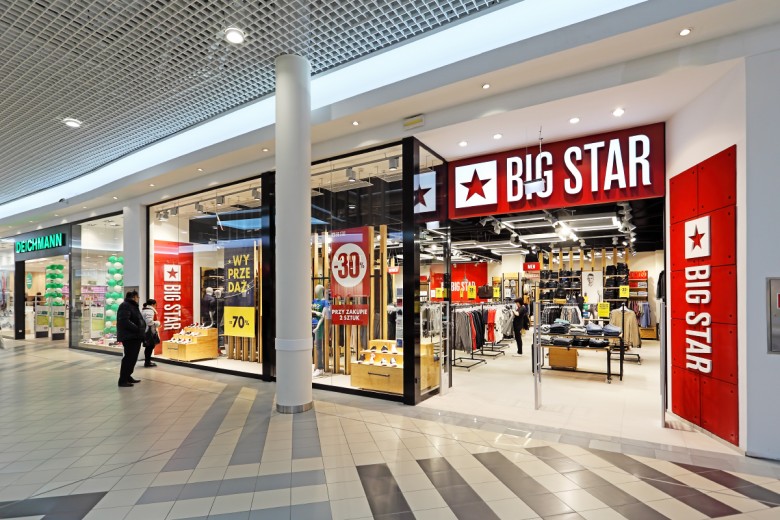 +48 883 338 399
HONORUJEMY GALERY
Jakościowy jeans i duża gwiazdka to znaki rozpoznawcze marki BIG STAR. I metka "made in Poland" bo BIG STAR to to sieć odzieżowa, która jest w 100% polska. Marka BIG STAR już od ponad 40 lat szyje jeansy z denimu najwyższej jakości. Szeroki asortyment kolekcji BIG STAR obejmuje także odzież wierzchnią, bluzy, swetry, sukienki, dresy, koszule, bieliznę, buty i akcesoria. Oferta skierowana jest do kobiet, mężczyzn, dzieci i młodzieży. Projektowanie z dbałością̨ o środowisko naturalne, połączenie mody z nowymi technologiami to idee niezwykle bliskie marce BIG STAR. Marka stawia na ekologiczny proces produkcji i odpowiedni dobór materiałów z włókien pochodzenia roślinnego oraz pochodzących z recyklingu. BIG STAR posiada 200 sklepów w Polsce i prężnie działający sklep internetowy bigstar.pl.
PROMOCJE W BIG STAR
Warning
: Invalid argument supplied for foreach() in
/galeria_nowa/wp-content/themes/gp/temp/sub-shop.php
on line
72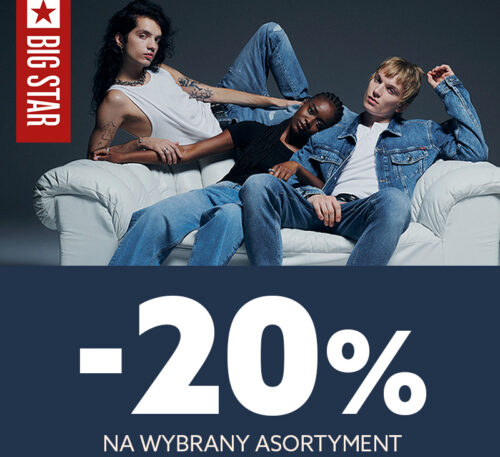 29 listopada 2022
20% na wybrany asortyment w BIG STAR! Złap okazje na Świąteczne zakupy.
Warning
: Invalid argument supplied for foreach() in
/galeria_nowa/wp-content/themes/gp/temp/sub-shop.php
on line
72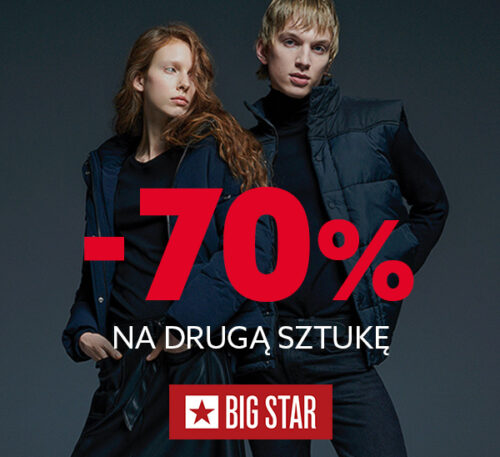 21 listopada 2022

Black Week w BIG STAR! Aż 70% rabatu na drugi tańszy, produkt.

Warning

: Invalid argument supplied for foreach() in

/galeria_nowa/wp-content/themes/gp/temp/sub-shop.php

on line

72 Warning

: Invalid argument supplied for foreach() in

/galeria_nowa/wp-content/themes/gp/temp/sub-shop.php

on line

72 Warning

: Invalid argument supplied for foreach() in

/galeria_nowa/wp-content/themes/gp/temp/sub-shop.php

on line

72 Warning

: Invalid argument supplied for foreach() in

/galeria_nowa/wp-content/themes/gp/temp/sub-shop.php

on line

72 Warning

: Invalid argument supplied for foreach() in

/galeria_nowa/wp-content/themes/gp/temp/sub-shop.php

on line

72 Warning

: Invalid argument supplied for foreach() in

/galeria_nowa/wp-content/themes/gp/temp/sub-shop.php

on line

72 Warning

: Invalid argument supplied for foreach() in

/galeria_nowa/wp-content/themes/gp/temp/sub-shop.php

on line

72 Warning

: Invalid argument supplied for foreach() in

/galeria_nowa/wp-content/themes/gp/temp/sub-shop.php

on line

72 Warning

: Invalid argument supplied for foreach() in

/galeria_nowa/wp-content/themes/gp/temp/sub-shop.php

on line

72 Warning

: Invalid argument supplied for foreach() in

/galeria_nowa/wp-content/themes/gp/temp/sub-shop.php

on line

72 Warning

: Invalid argument supplied for foreach() in

/galeria_nowa/wp-content/themes/gp/temp/sub-shop.php

on line

72 Warning

: Invalid argument supplied for foreach() in

/galeria_nowa/wp-content/themes/gp/temp/sub-shop.php

on line

72 Warning

: Invalid argument supplied for foreach() in

/galeria_nowa/wp-content/themes/gp/temp/sub-shop.php

on line

72 Warning

: Invalid argument supplied for foreach() in

/galeria_nowa/wp-content/themes/gp/temp/sub-shop.php

on line

72 Warning

: Invalid argument supplied for foreach() in

/galeria_nowa/wp-content/themes/gp/temp/sub-shop.php

on line

72 Warning

: Invalid argument supplied for foreach() in

/galeria_nowa/wp-content/themes/gp/temp/sub-shop.php

on line

72 Warning

: Invalid argument supplied for foreach() in

/galeria_nowa/wp-content/themes/gp/temp/sub-shop.php

on line

72 Warning

: Invalid argument supplied for foreach() in

/galeria_nowa/wp-content/themes/gp/temp/sub-shop.php

on line

72 Warning

: Invalid argument supplied for foreach() in

/galeria_nowa/wp-content/themes/gp/temp/sub-shop.php

on line

72 Warning

: Invalid argument supplied for foreach() in

/galeria_nowa/wp-content/themes/gp/temp/sub-shop.php

on line

72 Warning

: Invalid argument supplied for foreach() in

/galeria_nowa/wp-content/themes/gp/temp/sub-shop.php

on line

72 Warning

: Invalid argument supplied for foreach() in

/galeria_nowa/wp-content/themes/gp/temp/sub-shop.php

on line

72