Greenpoint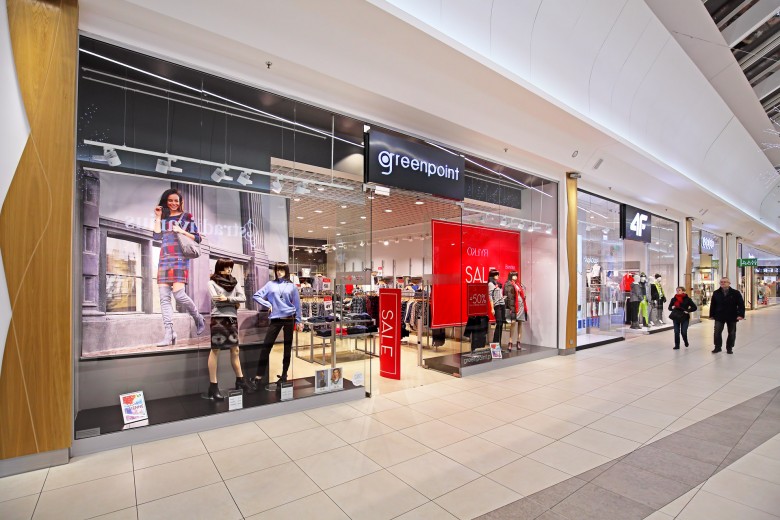 +48 52 584 83 10
HONORUJEMY GALERY
Greenpoint to polska marka odzieżowa obecna na rynku od prawie 30 lat. Jej główną ideą jest tworzenie mody dla kobiet, które chcą czuć się kobieco i komfortowo.
To nie przypadek, że zespół projektowy marki Greenpoint stanowią kobiety. To one wiedzą najlepiej, w czym dobrze wyglądają i czują się swobodnie.
Dzięki klasycznym fasonom w ubraniach Greenpoint kobiety wyglądają pięknie bez względu na typ sylwetki, wzrost, rozmiar, czy wiek. Bogata kolorystyka – od tradycyjnej bieli, czerni i szarości, aż po różnobarwne kwiatowe wzory – pozwala na wybór odpowiedniej do urody palety barw. Gładkie, jednolite tkaniny pozwalają osiągnąć stonowany, łagodny wizerunek, a sukienki i bluzki w wielobarwne desenie pozwalają na odrobinę szaleństwa i wyrażenie swojego charakteru.
Kolekcje marki Greenpoint powstają w oparciu o koncepcję szafy kapsułowej: ubrania z różnych kolekcji mają znakomicie łączyć się ze sobą i tworzyć interesujące stylizacje na różne okazje. Gotowe rozwiązania modowe to zadanie, które z powodzeniem realizuje marka. Współczesne kobiety muszą na co dzień podołać wielu wyzwaniom – Greenpoint to moda dla kobiet, które poszukują ubrań, w których będą świetnie wyglądać, ale nie będą musiały poświęcać wiele czasu na komponowanie odpowiednich stylizacji. To także wybór dla kobiet, które cenią garderobę, która może zostać z nimi na dłużej.
Marka posiada prawie 200 salonów w całej Polsce, w których doświadczeni doradcy służą radą i pomocą w wyborze odpowiednich ubrań i dodatków. Kolekcje Greenpoint dostępne są także w sklepie internetowym pod adresem greenpoint.pl oraz w aplikacji, którą można pobrać z App Store i Google Play. Inspirujące stylizacje można znaleźć na profilu marki na Facebooku i Instagramie. Dużą popularnością wśród klientek marki cieszy się Klub Greenpoint, w którym członkostwo zapewnia udział w programie ofert specjalnych.
PROMOCJE W Greenpoint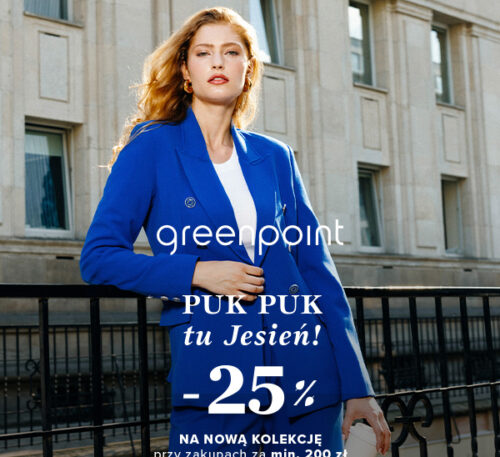 13 września 2023
Puk puk tu twój jesienny rabat!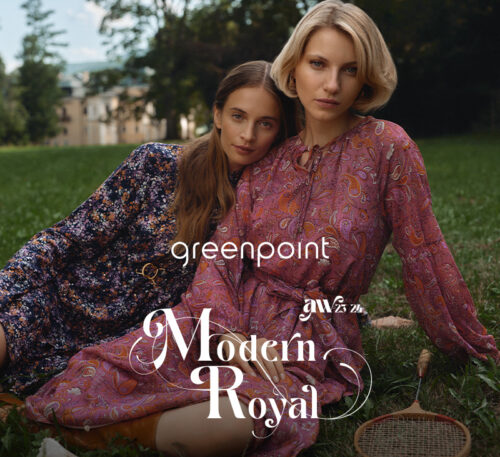 21 sierpnia 2023
Najnowsza kolekcja marki Greenpoint.
Warning
: Invalid argument supplied for foreach() in
/galeria_nowa/wp-content/themes/gp/temp/sub-shop.php
on line
72
Warning
: Invalid argument supplied for foreach() in
/galeria_nowa/wp-content/themes/gp/temp/sub-shop.php
on line
72
Warning
: Invalid argument supplied for foreach() in
/galeria_nowa/wp-content/themes/gp/temp/sub-shop.php
on line
72
Warning
: Invalid argument supplied for foreach() in
/galeria_nowa/wp-content/themes/gp/temp/sub-shop.php
on line
72
Warning
: Invalid argument supplied for foreach() in
/galeria_nowa/wp-content/themes/gp/temp/sub-shop.php
on line
72
Warning
: Invalid argument supplied for foreach() in
/galeria_nowa/wp-content/themes/gp/temp/sub-shop.php
on line
72
Warning
: Invalid argument supplied for foreach() in
/galeria_nowa/wp-content/themes/gp/temp/sub-shop.php
on line
72
Warning
: Invalid argument supplied for foreach() in
/galeria_nowa/wp-content/themes/gp/temp/sub-shop.php
on line
72
Warning
: Invalid argument supplied for foreach() in
/galeria_nowa/wp-content/themes/gp/temp/sub-shop.php
on line
72
Warning
: Invalid argument supplied for foreach() in
/galeria_nowa/wp-content/themes/gp/temp/sub-shop.php
on line
72
Warning
: Invalid argument supplied for foreach() in
/galeria_nowa/wp-content/themes/gp/temp/sub-shop.php
on line
72
Warning
: Invalid argument supplied for foreach() in
/galeria_nowa/wp-content/themes/gp/temp/sub-shop.php
on line
72
Warning
: Invalid argument supplied for foreach() in
/galeria_nowa/wp-content/themes/gp/temp/sub-shop.php
on line
72
Warning
: Invalid argument supplied for foreach() in
/galeria_nowa/wp-content/themes/gp/temp/sub-shop.php
on line
72
Warning
: Invalid argument supplied for foreach() in
/galeria_nowa/wp-content/themes/gp/temp/sub-shop.php
on line
72
Warning
: Invalid argument supplied for foreach() in
/galeria_nowa/wp-content/themes/gp/temp/sub-shop.php
on line
72
Warning
: Invalid argument supplied for foreach() in
/galeria_nowa/wp-content/themes/gp/temp/sub-shop.php
on line
72
Warning
: Invalid argument supplied for foreach() in
/galeria_nowa/wp-content/themes/gp/temp/sub-shop.php
on line
72
Warning
: Invalid argument supplied for foreach() in
/galeria_nowa/wp-content/themes/gp/temp/sub-shop.php
on line
72
Warning
: Invalid argument supplied for foreach() in
/galeria_nowa/wp-content/themes/gp/temp/sub-shop.php
on line
72
Warning
: Invalid argument supplied for foreach() in
/galeria_nowa/wp-content/themes/gp/temp/sub-shop.php
on line
72
Warning
: Invalid argument supplied for foreach() in
/galeria_nowa/wp-content/themes/gp/temp/sub-shop.php
on line
72
Warning
: Invalid argument supplied for foreach() in
/galeria_nowa/wp-content/themes/gp/temp/sub-shop.php
on line
72
Warning
: Invalid argument supplied for foreach() in
/galeria_nowa/wp-content/themes/gp/temp/sub-shop.php
on line
72
Warning
: Invalid argument supplied for foreach() in
/galeria_nowa/wp-content/themes/gp/temp/sub-shop.php
on line
72
Warning
: Invalid argument supplied for foreach() in
/galeria_nowa/wp-content/themes/gp/temp/sub-shop.php
on line
72
Warning
: Invalid argument supplied for foreach() in
/galeria_nowa/wp-content/themes/gp/temp/sub-shop.php
on line
72
Warning
: Invalid argument supplied for foreach() in
/galeria_nowa/wp-content/themes/gp/temp/sub-shop.php
on line
72
Warning
: Invalid argument supplied for foreach() in
/galeria_nowa/wp-content/themes/gp/temp/sub-shop.php
on line
72
Warning
: Invalid argument supplied for foreach() in
/galeria_nowa/wp-content/themes/gp/temp/sub-shop.php
on line
72
Warning
: Invalid argument supplied for foreach() in
/galeria_nowa/wp-content/themes/gp/temp/sub-shop.php
on line
72