RTV EURO AGD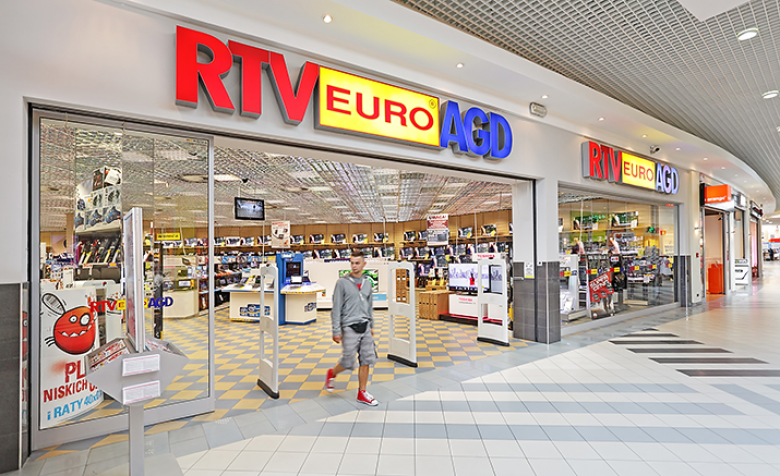 RTV EURO AGD – sklep dużych możliwości
Jesteśmy ogólnopolską siecią wyspecjalizowanych sklepów oferujących elektronikę użytkową oraz sprzęt gospodarstwa domowego. Jako lider rynku zapewniamy szeroki wybór wysokiej jakości produktów znanych marek. Prowadzimy sprzedaż stacjonarną i przez największy sklep internetowy z elektroniką euro.com.pl
Nowoczesny sprzęt to nasz atut
W RTV EURO AGD znajdziesz nowoczesny sprzęt, który zapewni rozrywkę całej rodzinie, ułatwi kontakt, pozwoli rozwijać pasje, zdopinguje do ruchu, pomoże w nauce i urządzi dom, a nawet wyposaży biuro. Trzymamy rękę na pulsie, żeby jak najszybciej wprowadzić do sprzedaży technologiczne nowości.
Niska cena to nie wszystko
U nas zawsze możesz liczyć na atrakcyjne ceny, promocje i rabaty, ale to nie jest jedyny nasz atut. Oferujmy znacznie więcej – profesjonalne doradztwo technologiczne i praktyczne usługi.
Zawsze do usług
Chcemy, żeby technologia była dostępna wszędzie i dla wszystkich. Aby maksymalnie ułatwić zakupy i korzystanie z każdego sprzętu, opracowaliśmy szeroki wachlarz usług:
transport, wniesienie, fachowa instalacja i odbiór zużytego sprzętu podczas jednej wizyty u klienta o wygodnej dla niego porze dnia – zatrudniamy tylko certyfikowanych specjalistów posiadających odpowiednie uprawnienia

usługi wykonywane w sklepie (konfiguracja telefonu, laptopa, instalacja oprogramowania, pomoc w obsłudze smart TV, zabezpieczenie ekranu smartfonów folią ochronną)

możliwość skorzystania z tanich abonamentów telefonicznych z dużymi pakietami danych

Zeroraty (oprocentowanie 0%, bez zaświadczeń o zarobkach, bez wpłaty własnej, odroczenie pierwszej raty, błyskawiczna decyzja kredytowa)

produkty ubezpieczeniowe, np. Przedłuż Gwarancję® z bardzo szerokim zakresem bez udziału własnego, obejmującym nawet nieumyślne uszkodzenie sprzętu )
Wysoką jakość naszych usług potwierdza aż 92% zadowolonych Klientów. Zapraszamy na udane zakupy!
Zapraszamy do sklepu!
PROMOCJE W RTV EURO AGD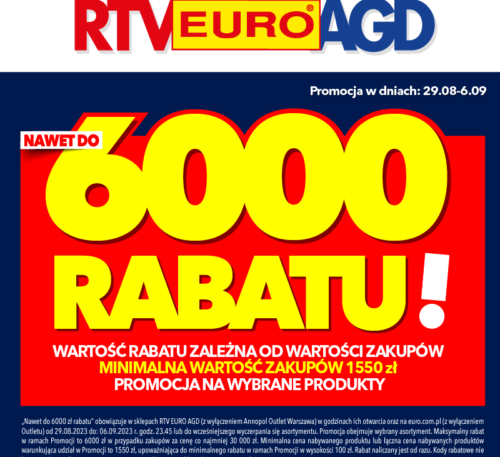 30 sierpnia 2023
W RTV EURO AGD nawet do 6000 zł rabatu!
Warning
: Invalid argument supplied for foreach() in
/galeria_nowa/wp-content/themes/gp/temp/sub-shop.php
on line
72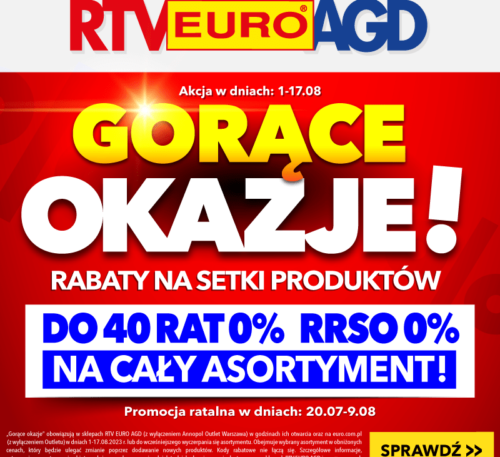 2 sierpnia 2023
Gorące Okazje w RTV EURO AGD!
Warning
: Invalid argument supplied for foreach() in
/galeria_nowa/wp-content/themes/gp/temp/sub-shop.php
on line
72
Warning
: Invalid argument supplied for foreach() in
/galeria_nowa/wp-content/themes/gp/temp/sub-shop.php
on line
72
Warning
: Invalid argument supplied for foreach() in
/galeria_nowa/wp-content/themes/gp/temp/sub-shop.php
on line
72
Warning
: Invalid argument supplied for foreach() in
/galeria_nowa/wp-content/themes/gp/temp/sub-shop.php
on line
72
Warning
: Invalid argument supplied for foreach() in
/galeria_nowa/wp-content/themes/gp/temp/sub-shop.php
on line
72
Warning
: Invalid argument supplied for foreach() in
/galeria_nowa/wp-content/themes/gp/temp/sub-shop.php
on line
72
Warning
: Invalid argument supplied for foreach() in
/galeria_nowa/wp-content/themes/gp/temp/sub-shop.php
on line
72
Warning
: Invalid argument supplied for foreach() in
/galeria_nowa/wp-content/themes/gp/temp/sub-shop.php
on line
72
Warning
: Invalid argument supplied for foreach() in
/galeria_nowa/wp-content/themes/gp/temp/sub-shop.php
on line
72
Warning
: Invalid argument supplied for foreach() in
/galeria_nowa/wp-content/themes/gp/temp/sub-shop.php
on line
72
Warning
: Invalid argument supplied for foreach() in
/galeria_nowa/wp-content/themes/gp/temp/sub-shop.php
on line
72
Warning
: Invalid argument supplied for foreach() in
/galeria_nowa/wp-content/themes/gp/temp/sub-shop.php
on line
72
Warning
: Invalid argument supplied for foreach() in
/galeria_nowa/wp-content/themes/gp/temp/sub-shop.php
on line
72
Warning
: Invalid argument supplied for foreach() in
/galeria_nowa/wp-content/themes/gp/temp/sub-shop.php
on line
72
Warning
: Invalid argument supplied for foreach() in
/galeria_nowa/wp-content/themes/gp/temp/sub-shop.php
on line
72
Warning
: Invalid argument supplied for foreach() in
/galeria_nowa/wp-content/themes/gp/temp/sub-shop.php
on line
72
Warning
: Invalid argument supplied for foreach() in
/galeria_nowa/wp-content/themes/gp/temp/sub-shop.php
on line
72
Warning
: Invalid argument supplied for foreach() in
/galeria_nowa/wp-content/themes/gp/temp/sub-shop.php
on line
72
Warning
: Invalid argument supplied for foreach() in
/galeria_nowa/wp-content/themes/gp/temp/sub-shop.php
on line
72
Warning
: Invalid argument supplied for foreach() in
/galeria_nowa/wp-content/themes/gp/temp/sub-shop.php
on line
72
Warning
: Invalid argument supplied for foreach() in
/galeria_nowa/wp-content/themes/gp/temp/sub-shop.php
on line
72
Warning
: Invalid argument supplied for foreach() in
/galeria_nowa/wp-content/themes/gp/temp/sub-shop.php
on line
72
Warning
: Invalid argument supplied for foreach() in
/galeria_nowa/wp-content/themes/gp/temp/sub-shop.php
on line
72
Warning
: Invalid argument supplied for foreach() in
/galeria_nowa/wp-content/themes/gp/temp/sub-shop.php
on line
72
Warning
: Invalid argument supplied for foreach() in
/galeria_nowa/wp-content/themes/gp/temp/sub-shop.php
on line
72
Warning
: Invalid argument supplied for foreach() in
/galeria_nowa/wp-content/themes/gp/temp/sub-shop.php
on line
72
Warning
: Invalid argument supplied for foreach() in
/galeria_nowa/wp-content/themes/gp/temp/sub-shop.php
on line
72
Warning
: Invalid argument supplied for foreach() in
/galeria_nowa/wp-content/themes/gp/temp/sub-shop.php
on line
72
Warning
: Invalid argument supplied for foreach() in
/galeria_nowa/wp-content/themes/gp/temp/sub-shop.php
on line
72
Warning
: Invalid argument supplied for foreach() in
/galeria_nowa/wp-content/themes/gp/temp/sub-shop.php
on line
72