Vistula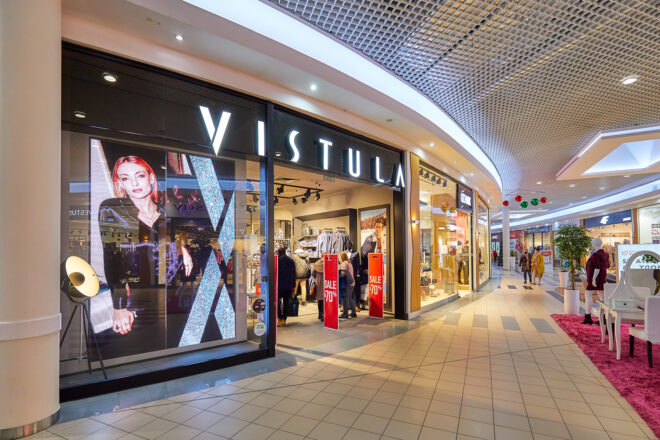 +48 783 781 897
HONORUJEMY GALERY
Jesień – Zima 2022 .VISTULA ON THE GO. Find what defines you.
Vistula jest w trakcie przemiany. Otwiera się na wyzwania, zapraszając wielbicieli marki i nowych odbiorców do wyruszenia we wspólną podróż.
Kolekcja Jesień–Zima 2022, której kampania odbywa się pod hasłem VISTULA ON THE GO.
Find what defines you, to zachęta do ekscytującej eksploracji i ponownego zdefiniowania swojego stylu.
Marka wychodzi z autorską propozycją, jak ten proces przeprowadzić na własnych zasadach.
Szeroki asortyment Vistula umożliwia stworzenie wielu konfiguracji z poszczególnych produktów
i pozwala wybrać to, co jest najbliższe danej osobie – jej energii, osobowości, temperamentowi.
PROMOCJE W Vistula

Warning: Invalid argument supplied for foreach() in /galeria_nowa/wp-content/themes/gp/temp/sub-shop.php on line 72

Warning: Invalid argument supplied for foreach() in /galeria_nowa/wp-content/themes/gp/temp/sub-shop.php on line 72

Warning: Invalid argument supplied for foreach() in /galeria_nowa/wp-content/themes/gp/temp/sub-shop.php on line 72

Warning: Invalid argument supplied for foreach() in /galeria_nowa/wp-content/themes/gp/temp/sub-shop.php on line 72

Warning: Invalid argument supplied for foreach() in /galeria_nowa/wp-content/themes/gp/temp/sub-shop.php on line 72

Warning: Invalid argument supplied for foreach() in /galeria_nowa/wp-content/themes/gp/temp/sub-shop.php on line 72

Warning: Invalid argument supplied for foreach() in /galeria_nowa/wp-content/themes/gp/temp/sub-shop.php on line 72

Warning: Invalid argument supplied for foreach() in /galeria_nowa/wp-content/themes/gp/temp/sub-shop.php on line 72

Warning: Invalid argument supplied for foreach() in /galeria_nowa/wp-content/themes/gp/temp/sub-shop.php on line 72

Warning: Invalid argument supplied for foreach() in /galeria_nowa/wp-content/themes/gp/temp/sub-shop.php on line 72

Warning: Invalid argument supplied for foreach() in /galeria_nowa/wp-content/themes/gp/temp/sub-shop.php on line 72

Warning: Invalid argument supplied for foreach() in /galeria_nowa/wp-content/themes/gp/temp/sub-shop.php on line 72

Warning: Invalid argument supplied for foreach() in /galeria_nowa/wp-content/themes/gp/temp/sub-shop.php on line 72

Warning: Invalid argument supplied for foreach() in /galeria_nowa/wp-content/themes/gp/temp/sub-shop.php on line 72

Warning: Invalid argument supplied for foreach() in /galeria_nowa/wp-content/themes/gp/temp/sub-shop.php on line 72

Warning: Invalid argument supplied for foreach() in /galeria_nowa/wp-content/themes/gp/temp/sub-shop.php on line 72

Warning: Invalid argument supplied for foreach() in /galeria_nowa/wp-content/themes/gp/temp/sub-shop.php on line 72

Warning: Invalid argument supplied for foreach() in /galeria_nowa/wp-content/themes/gp/temp/sub-shop.php on line 72

Warning: Invalid argument supplied for foreach() in /galeria_nowa/wp-content/themes/gp/temp/sub-shop.php on line 72

Warning: Invalid argument supplied for foreach() in /galeria_nowa/wp-content/themes/gp/temp/sub-shop.php on line 72

Warning: Invalid argument supplied for foreach() in /galeria_nowa/wp-content/themes/gp/temp/sub-shop.php on line 72

Warning: Invalid argument supplied for foreach() in /galeria_nowa/wp-content/themes/gp/temp/sub-shop.php on line 72

Warning: Invalid argument supplied for foreach() in /galeria_nowa/wp-content/themes/gp/temp/sub-shop.php on line 72

Warning: Invalid argument supplied for foreach() in /galeria_nowa/wp-content/themes/gp/temp/sub-shop.php on line 72