Action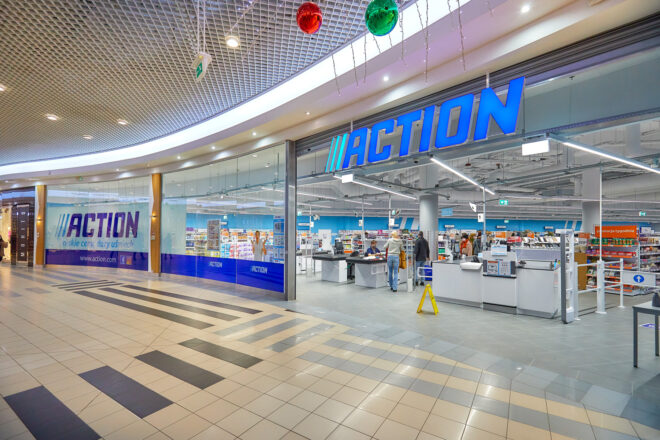 Action to międzynarodowa sieć dyskontów niespożywczych, oferująca klientom szeroki, często zmieniający się asortyment produktów codziennego użytku w przystępnych cenach.
Marka pochodzi z Holandii, ale dzięki dynamicznemu rozwojowi dziś działa na terenie dziewięciu krajów europejskich: Holandii, Belgii, Francji, Niemiec, Luksemburga, Austrii, Polski, Czech i Włoch.
Na polskim rynku obecna jest od października 2017 roku i posiada tu obecnie ponad 160 sklepów. Polski oddział Action zatrudnia dziś ponad 2000 pracowników.
Asortyment Action obejmuje łącznie ponad 6000 produktów z aż 14 kategorii:
*dekoracje,
*DIY ("zrób to sam"),
*zabawki i rozrywka,
*hobby,
*multimedia,
*artykuły gospodarstwa domowego,
*ogród,
*pranie i sprzątanie,
*pielęgnacja ciała,
*zwierzęta domowe,
*sport, odzież i pościel,
*żywność i napoje.
Około 2/3 asortymentu szybko rotuje, a dodatkowo każdego tygodnia firma wprowadza na półki ponad 150 nowych artykułów. Ponadto, co tydzień Action przygotowuje dla klientów promocje na wybrane produkty.
Action oferuje wiele różnych marek, zarówno tych znanych, jak i własnych. Firma może zagwarantować swoim klientom niskie ceny ze względu na dużą skalę i efektywność zakupów, optymalną dystrybucję oraz racjonalną politykę kosztową w całej organizacji. Action nie godzi się na żadne ustępstwa względem jakości, bezpieczeństwa ani warunków produkcji oferowanych artykułów. Polityka Etycznego Pozyskiwania Action zapewnia odpowiedzialne podejście do produkcji, zarówno pod względem społecznym, jak i środowiskowym.
Sklepy Action projektowane są z myślą o komforcie oraz bezpieczeństwie klientów i pracowników. Szerokie alejki oraz oznaczenia na podłodze pomagają zachować odpowiedni dystans. Ponadto przy kasach znajdują się środki dezynfekujące i ekrany ochronne.
Zapraszamy na stronę internetową www.action.com, gdzie można zapoznać się z naszym asortymentem.
PROMOCJE W Action

Warning: Invalid argument supplied for foreach() in /galeria_nowa/wp-content/themes/gp/temp/sub-shop.php on line 72

Warning: Invalid argument supplied for foreach() in /galeria_nowa/wp-content/themes/gp/temp/sub-shop.php on line 72

Warning: Invalid argument supplied for foreach() in /galeria_nowa/wp-content/themes/gp/temp/sub-shop.php on line 72

Warning: Invalid argument supplied for foreach() in /galeria_nowa/wp-content/themes/gp/temp/sub-shop.php on line 72

Warning: Invalid argument supplied for foreach() in /galeria_nowa/wp-content/themes/gp/temp/sub-shop.php on line 72

Warning: Invalid argument supplied for foreach() in /galeria_nowa/wp-content/themes/gp/temp/sub-shop.php on line 72

Warning: Invalid argument supplied for foreach() in /galeria_nowa/wp-content/themes/gp/temp/sub-shop.php on line 72

Warning: Invalid argument supplied for foreach() in /galeria_nowa/wp-content/themes/gp/temp/sub-shop.php on line 72

Warning: Invalid argument supplied for foreach() in /galeria_nowa/wp-content/themes/gp/temp/sub-shop.php on line 72

Warning: Invalid argument supplied for foreach() in /galeria_nowa/wp-content/themes/gp/temp/sub-shop.php on line 72

Warning: Invalid argument supplied for foreach() in /galeria_nowa/wp-content/themes/gp/temp/sub-shop.php on line 72

Warning: Invalid argument supplied for foreach() in /galeria_nowa/wp-content/themes/gp/temp/sub-shop.php on line 72

Warning: Invalid argument supplied for foreach() in /galeria_nowa/wp-content/themes/gp/temp/sub-shop.php on line 72

Warning: Invalid argument supplied for foreach() in /galeria_nowa/wp-content/themes/gp/temp/sub-shop.php on line 72

Warning: Invalid argument supplied for foreach() in /galeria_nowa/wp-content/themes/gp/temp/sub-shop.php on line 72

Warning: Invalid argument supplied for foreach() in /galeria_nowa/wp-content/themes/gp/temp/sub-shop.php on line 72

Warning: Invalid argument supplied for foreach() in /galeria_nowa/wp-content/themes/gp/temp/sub-shop.php on line 72

Warning: Invalid argument supplied for foreach() in /galeria_nowa/wp-content/themes/gp/temp/sub-shop.php on line 72

Warning: Invalid argument supplied for foreach() in /galeria_nowa/wp-content/themes/gp/temp/sub-shop.php on line 72

Warning: Invalid argument supplied for foreach() in /galeria_nowa/wp-content/themes/gp/temp/sub-shop.php on line 72

Warning: Invalid argument supplied for foreach() in /galeria_nowa/wp-content/themes/gp/temp/sub-shop.php on line 72

Warning: Invalid argument supplied for foreach() in /galeria_nowa/wp-content/themes/gp/temp/sub-shop.php on line 72

Warning: Invalid argument supplied for foreach() in /galeria_nowa/wp-content/themes/gp/temp/sub-shop.php on line 72

Warning: Invalid argument supplied for foreach() in /galeria_nowa/wp-content/themes/gp/temp/sub-shop.php on line 72

Warning: Invalid argument supplied for foreach() in /galeria_nowa/wp-content/themes/gp/temp/sub-shop.php on line 72

Warning: Invalid argument supplied for foreach() in /galeria_nowa/wp-content/themes/gp/temp/sub-shop.php on line 72

Warning: Invalid argument supplied for foreach() in /galeria_nowa/wp-content/themes/gp/temp/sub-shop.php on line 72

Warning: Invalid argument supplied for foreach() in /galeria_nowa/wp-content/themes/gp/temp/sub-shop.php on line 72

Warning: Invalid argument supplied for foreach() in /galeria_nowa/wp-content/themes/gp/temp/sub-shop.php on line 72

Warning: Invalid argument supplied for foreach() in /galeria_nowa/wp-content/themes/gp/temp/sub-shop.php on line 72

Warning: Invalid argument supplied for foreach() in /galeria_nowa/wp-content/themes/gp/temp/sub-shop.php on line 72