Cropp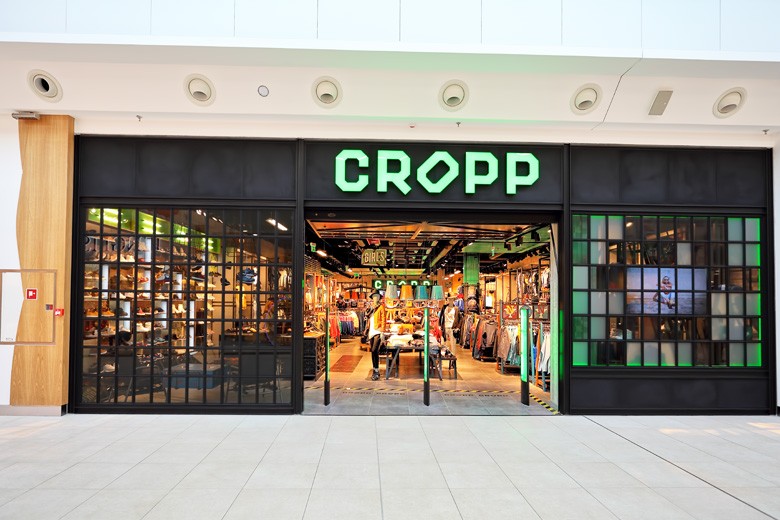 +48 785 003 542
HONORUJEMY GALERY
Cropp to streetwear dla wszystkich tych, którzy nie boją się być sobą. Inspirując się światem muzyki, sztuki i sportu, marka tworzy wyraziste ubrania, buty i dodatki dla kobiet i mężczyzn. Cropp jest taki, jak jego klienci – odważny, bezkompromisowy i w 100% autentyczny. To społeczność ludzi z pasją, którzy poprzez ubranie chcą wyrazić siebie. Marka czerpie ze swojej prawie dwudziestoletniej historii, kreatywnie łącząc uliczny styl, nowoczesne inspiracje i lokalną tożsamość.
Street culture
Cropp od zawsze związany był ze streetwearem, od początku istnienia na nowo definiując modę uliczną i unikalny, lokalny styl. To marka inna niż wszystkie. Nie ma tu miejsca na sztuczność – Cropp chce towarzyszyć młodym ludziom w każdym aspekcie ich codziennego życia.
CroppCommunity
Kreatywna i wyrazista – taka jest społeczność Cropp. Marka tworzy przestrzeń, w której każdy może być w 100% sobą. Poprzez zróżnicowane kolekcje daje odbiorcom możliwość tworzenia i wyrażania swojego wyjątkowego stylu.
Dla aktywnych i zajawkowiczów
Nie chodzi o ubrania, chodzi o ludzi i to, co robią. Marka szuka inspiracji w świecie sztuki, muzyki i sportu. Jazda na desce po mieście z ekipą, czy tańczenie w zaciszu własnego pokoju – Cropp wspiera wszystkie zajawki i pokazuje, że każdy sposób na wyrażanie siebie jest wartościowy. Marka zachęca, by nie pozostawać w miejscu, wciąż odkrywać nowe rzeczy i łamać utarte schematy.
Bądź na bieżąco!
Facebook: https://www.facebook.com/Cropp
Instagram: https://www.instagram.com/cropp_clothing/
Tiktok: https://www.tiktok.com/@cropp
Spotify: https://open.spotify.com/user/31chirtg3vdpfzubpwdtfw3ikxbm?si=4b6175c73c5f49f1
PROMOCJE W Cropp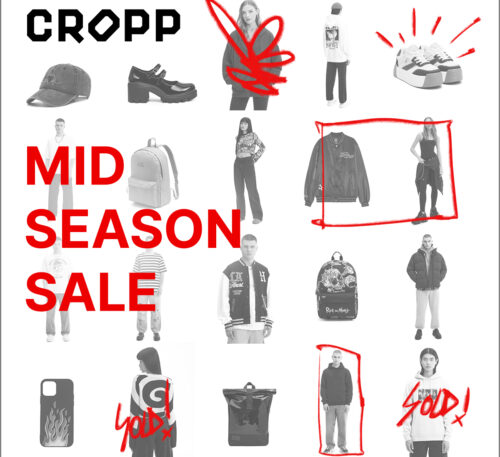 21 września 2023
Mid season sale w Cropp.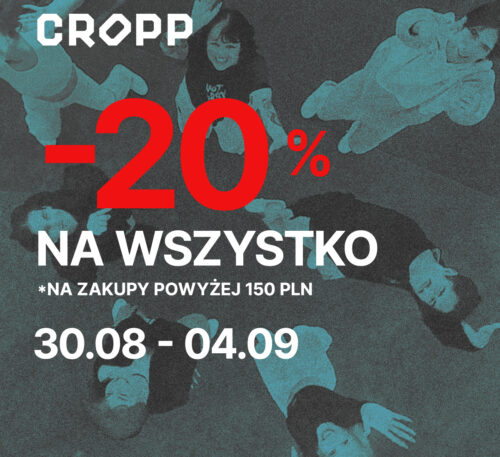 1 września 2023
Mega okazja w Cropp! Tylko teraz -20% na wszystko!
Warning
: Invalid argument supplied for foreach() in
/galeria_nowa/wp-content/themes/gp/temp/sub-shop.php
on line
72
Warning
: Invalid argument supplied for foreach() in
/galeria_nowa/wp-content/themes/gp/temp/sub-shop.php
on line
72
Warning
: Invalid argument supplied for foreach() in
/galeria_nowa/wp-content/themes/gp/temp/sub-shop.php
on line
72
Warning
: Invalid argument supplied for foreach() in
/galeria_nowa/wp-content/themes/gp/temp/sub-shop.php
on line
72
Warning
: Invalid argument supplied for foreach() in
/galeria_nowa/wp-content/themes/gp/temp/sub-shop.php
on line
72
Warning
: Invalid argument supplied for foreach() in
/galeria_nowa/wp-content/themes/gp/temp/sub-shop.php
on line
72
Warning
: Invalid argument supplied for foreach() in
/galeria_nowa/wp-content/themes/gp/temp/sub-shop.php
on line
72
Warning
: Invalid argument supplied for foreach() in
/galeria_nowa/wp-content/themes/gp/temp/sub-shop.php
on line
72
Warning
: Invalid argument supplied for foreach() in
/galeria_nowa/wp-content/themes/gp/temp/sub-shop.php
on line
72
Warning
: Invalid argument supplied for foreach() in
/galeria_nowa/wp-content/themes/gp/temp/sub-shop.php
on line
72
Warning
: Invalid argument supplied for foreach() in
/galeria_nowa/wp-content/themes/gp/temp/sub-shop.php
on line
72
Warning
: Invalid argument supplied for foreach() in
/galeria_nowa/wp-content/themes/gp/temp/sub-shop.php
on line
72
Warning
: Invalid argument supplied for foreach() in
/galeria_nowa/wp-content/themes/gp/temp/sub-shop.php
on line
72
Warning
: Invalid argument supplied for foreach() in
/galeria_nowa/wp-content/themes/gp/temp/sub-shop.php
on line
72
Warning
: Invalid argument supplied for foreach() in
/galeria_nowa/wp-content/themes/gp/temp/sub-shop.php
on line
72
Warning
: Invalid argument supplied for foreach() in
/galeria_nowa/wp-content/themes/gp/temp/sub-shop.php
on line
72
Warning
: Invalid argument supplied for foreach() in
/galeria_nowa/wp-content/themes/gp/temp/sub-shop.php
on line
72
Warning
: Invalid argument supplied for foreach() in
/galeria_nowa/wp-content/themes/gp/temp/sub-shop.php
on line
72
Warning
: Invalid argument supplied for foreach() in
/galeria_nowa/wp-content/themes/gp/temp/sub-shop.php
on line
72
Warning
: Invalid argument supplied for foreach() in
/galeria_nowa/wp-content/themes/gp/temp/sub-shop.php
on line
72
Warning
: Invalid argument supplied for foreach() in
/galeria_nowa/wp-content/themes/gp/temp/sub-shop.php
on line
72
Warning
: Invalid argument supplied for foreach() in
/galeria_nowa/wp-content/themes/gp/temp/sub-shop.php
on line
72
Warning
: Invalid argument supplied for foreach() in
/galeria_nowa/wp-content/themes/gp/temp/sub-shop.php
on line
72
Warning
: Invalid argument supplied for foreach() in
/galeria_nowa/wp-content/themes/gp/temp/sub-shop.php
on line
72
Warning
: Invalid argument supplied for foreach() in
/galeria_nowa/wp-content/themes/gp/temp/sub-shop.php
on line
72
Warning
: Invalid argument supplied for foreach() in
/galeria_nowa/wp-content/themes/gp/temp/sub-shop.php
on line
72
Warning
: Invalid argument supplied for foreach() in
/galeria_nowa/wp-content/themes/gp/temp/sub-shop.php
on line
72
Warning
: Invalid argument supplied for foreach() in
/galeria_nowa/wp-content/themes/gp/temp/sub-shop.php
on line
72
Warning
: Invalid argument supplied for foreach() in
/galeria_nowa/wp-content/themes/gp/temp/sub-shop.php
on line
72
Warning
: Invalid argument supplied for foreach() in
/galeria_nowa/wp-content/themes/gp/temp/sub-shop.php
on line
72
Warning
: Invalid argument supplied for foreach() in
/galeria_nowa/wp-content/themes/gp/temp/sub-shop.php
on line
72