Douglas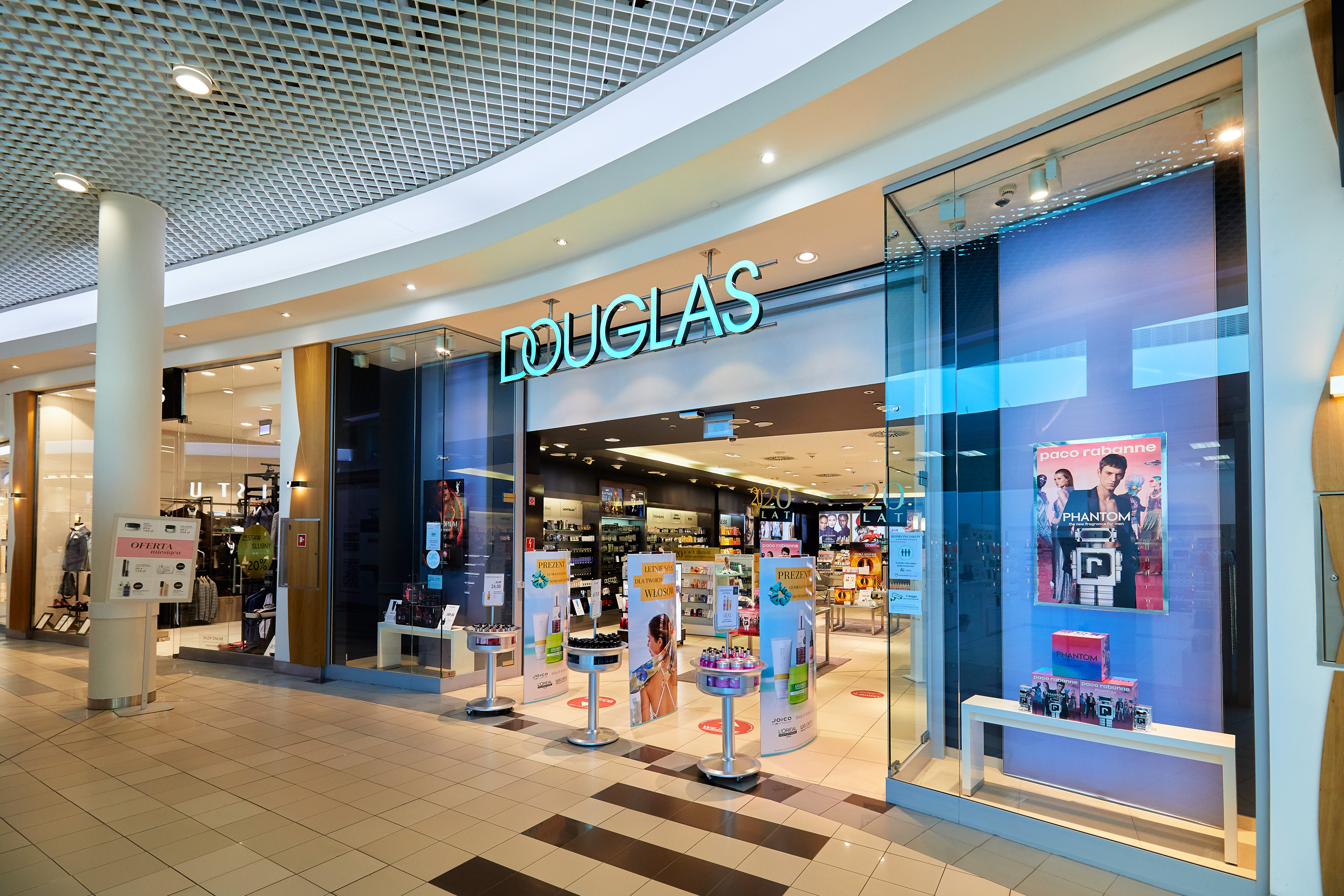 +48 52 346 66 95
HONORUJEMY GALERY
Perfumerie Douglas to największa sieć perfumerii w Polsce. Posiadamy ponad 130 sklepów
w najlepszych centrach i galeriach oraz przy prestiżowych ulicach handlowych.
Jednak naszą największą siłą jest wielokanałowa oferta sprzedaży – oprócz sklepów stacjonarnych są to sklep internetowy i aplikacja mobilna –
a także stale wzbogacane portfolio marek dostępnych w perfumeriach i sklepie online, co sprawia, że właśnie Douglas jest liderem na rynku beauty!
W naszym asortymencie – pielęgnacyjnym, makijażowym i zapachowym znajdziecie dziesiątki tysięcy produktów luksusowych
i popularnych, w tym wiele marek dostępnych wyłącznie w Douglas (m.in. Giorgio Armani Cosmetics, Bobbi Brown, Tom Ford, Kylie Skin,
Florence by Mills, Keys Soulcare).
Niezależnie od tego, jakie produkty wybierzecie, zawsze czeka na Was profesjonalna pomoc naszych konsultantów.
Nasz największy atut to ponad 20 000 wysoko wykwalifikowanych ekspertów kosmetycznych, którzy każdego dnia dokładają starań,
abyście czuli się piękniejsi, bardziej pewni siebie i dzięki temu – szczęśliwsi, a sam dobór odpowiednich produktów
stawał się dla Was wyjątkowym doświadczeniem.
Pamiętajcie, że prawdziwe piękno drzemie w Was! U nas znajdziecie wszystko, czego potrzebujecie, by je wydobyć.
Zapraszamy do perfumerii Douglas i na douglas.pl
PROMOCJE W Douglas
Warning
: Invalid argument supplied for foreach() in
/galeria_nowa/wp-content/themes/gp/temp/sub-shop.php
on line
72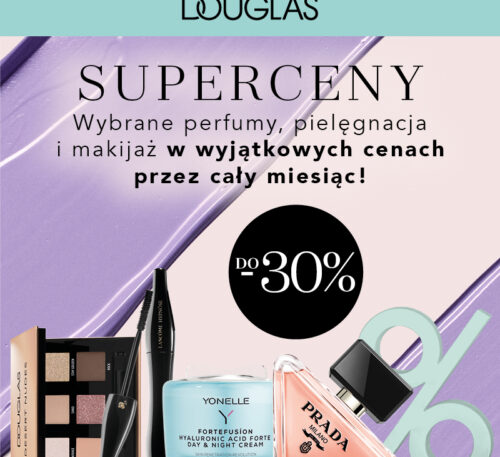 8 marca 2023
Super ceny w perfumeriach Douglas!
Warning
: Invalid argument supplied for foreach() in
/galeria_nowa/wp-content/themes/gp/temp/sub-shop.php
on line
72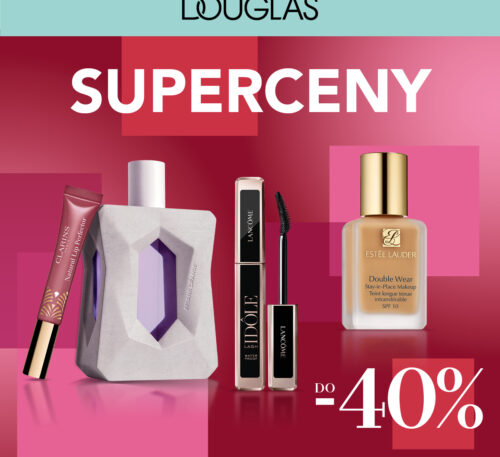 12 stycznia 2023

Oferta miesiąca w perfumeriach Douglas!

Warning

: Invalid argument supplied for foreach() in

/galeria_nowa/wp-content/themes/gp/temp/sub-shop.php

on line

72 Warning

: Invalid argument supplied for foreach() in

/galeria_nowa/wp-content/themes/gp/temp/sub-shop.php

on line

72 Warning

: Invalid argument supplied for foreach() in

/galeria_nowa/wp-content/themes/gp/temp/sub-shop.php

on line

72 Warning

: Invalid argument supplied for foreach() in

/galeria_nowa/wp-content/themes/gp/temp/sub-shop.php

on line

72 Warning

: Invalid argument supplied for foreach() in

/galeria_nowa/wp-content/themes/gp/temp/sub-shop.php

on line

72 Warning

: Invalid argument supplied for foreach() in

/galeria_nowa/wp-content/themes/gp/temp/sub-shop.php

on line

72 Warning

: Invalid argument supplied for foreach() in

/galeria_nowa/wp-content/themes/gp/temp/sub-shop.php

on line

72 Warning

: Invalid argument supplied for foreach() in

/galeria_nowa/wp-content/themes/gp/temp/sub-shop.php

on line

72 Warning

: Invalid argument supplied for foreach() in

/galeria_nowa/wp-content/themes/gp/temp/sub-shop.php

on line

72 Warning

: Invalid argument supplied for foreach() in

/galeria_nowa/wp-content/themes/gp/temp/sub-shop.php

on line

72 Warning

: Invalid argument supplied for foreach() in

/galeria_nowa/wp-content/themes/gp/temp/sub-shop.php

on line

72 Warning

: Invalid argument supplied for foreach() in

/galeria_nowa/wp-content/themes/gp/temp/sub-shop.php

on line

72 Warning

: Invalid argument supplied for foreach() in

/galeria_nowa/wp-content/themes/gp/temp/sub-shop.php

on line

72 Warning

: Invalid argument supplied for foreach() in

/galeria_nowa/wp-content/themes/gp/temp/sub-shop.php

on line

72 Warning

: Invalid argument supplied for foreach() in

/galeria_nowa/wp-content/themes/gp/temp/sub-shop.php

on line

72 Warning

: Invalid argument supplied for foreach() in

/galeria_nowa/wp-content/themes/gp/temp/sub-shop.php

on line

72 Warning

: Invalid argument supplied for foreach() in

/galeria_nowa/wp-content/themes/gp/temp/sub-shop.php

on line

72 Warning

: Invalid argument supplied for foreach() in

/galeria_nowa/wp-content/themes/gp/temp/sub-shop.php

on line

72 Warning

: Invalid argument supplied for foreach() in

/galeria_nowa/wp-content/themes/gp/temp/sub-shop.php

on line

72 Warning

: Invalid argument supplied for foreach() in

/galeria_nowa/wp-content/themes/gp/temp/sub-shop.php

on line

72 Warning

: Invalid argument supplied for foreach() in

/galeria_nowa/wp-content/themes/gp/temp/sub-shop.php

on line

72 Warning

: Invalid argument supplied for foreach() in

/galeria_nowa/wp-content/themes/gp/temp/sub-shop.php

on line

72 Warning

: Invalid argument supplied for foreach() in

/galeria_nowa/wp-content/themes/gp/temp/sub-shop.php

on line

72 Warning

: Invalid argument supplied for foreach() in

/galeria_nowa/wp-content/themes/gp/temp/sub-shop.php

on line

72