hebe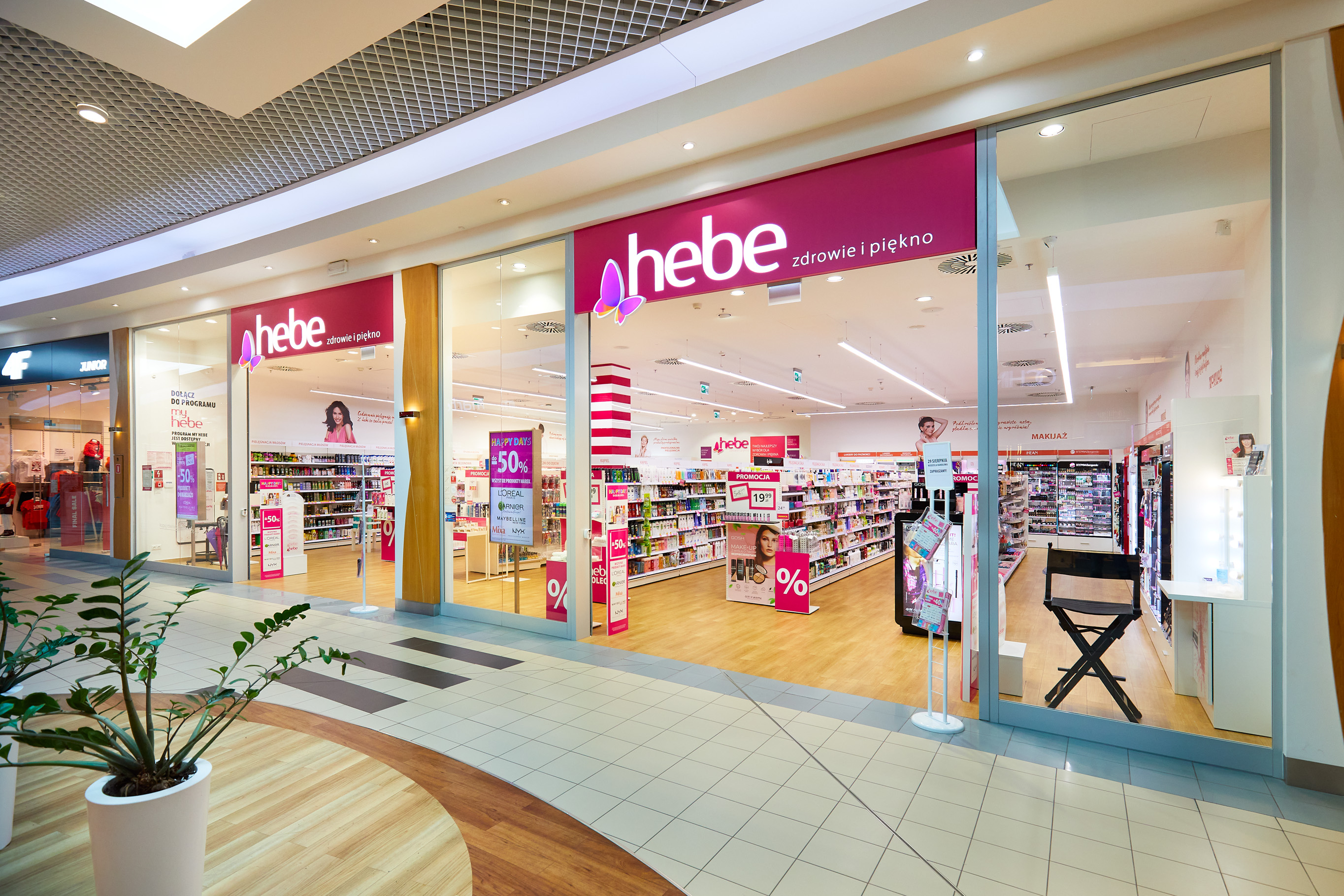 882 431 724
HONORUJEMY GALERY
Hebe to nowoczesna i przyjazna drogeria oferująca
starannie wyselekcjonowany, zróżnicowany asortyment
oraz produkty dostępne na wyłączność wszystko w wyjątkowo atrakcyjnych cenach.
Sieć Hebe jest częścią Grupy Jeronimo Martins a pierwsza drogeria została otwarta w maju 2011 roku w Warszawie, przy Alejach Jerozolimskich.
Dzisiaj pod marką działa ponad 170 nowoczesnych i kobiecych drogerii, które można znaleźć w ponad 50 miastach na terenie całej Polski.
Asortyment Hebe to jedyne w swoim rodzaju połączenie oferty kosmetyków na wyłączność, w tym produktów dermo czy profesjonalnych.
Na półkach znaleźć można wyjątkowe kosmetyki do pielęgnacji ciała, włosów i twarzy a także wiele akcesoriów i kosmetyków makijażowych.
Wśród marek dostępnych na wyłączność znajduje się szeroka gama staranie wyselekcjonowanych kosmetyków z całego świata:
Gosh, Hean, Ingrid, Lomi Lomi, Ava, Benton, Purederm, Exclusive, Hask, Dr PAWPAW, Andrew Barton, Phil Smith, Mades, Mane'n Tail, Nacomi, Bubble t, Bandi, Sanctuary Spa, Monotheme, Replay i wiele innych.
Pełna lista dostępna jest na stronie: https://www.hebe.pl/marki.
PROMOCJE W hebe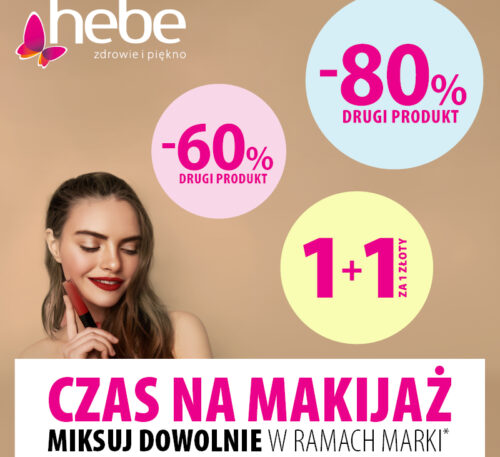 22 września 2023
Czas na makijaż – Nawet 80% taniej na drugi produkt.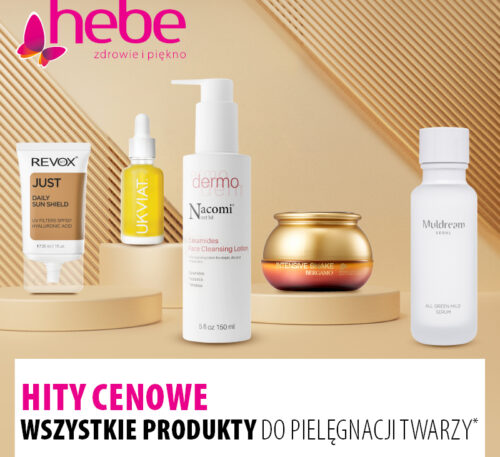 19 września 2023
Hity cenowe! Pielęgnacja twarzy.
Warning
: Invalid argument supplied for foreach() in
/galeria_nowa/wp-content/themes/gp/temp/sub-shop.php
on line
72
Warning
: Invalid argument supplied for foreach() in
/galeria_nowa/wp-content/themes/gp/temp/sub-shop.php
on line
72
Warning
: Invalid argument supplied for foreach() in
/galeria_nowa/wp-content/themes/gp/temp/sub-shop.php
on line
72
Warning
: Invalid argument supplied for foreach() in
/galeria_nowa/wp-content/themes/gp/temp/sub-shop.php
on line
72
Warning
: Invalid argument supplied for foreach() in
/galeria_nowa/wp-content/themes/gp/temp/sub-shop.php
on line
72
Warning
: Invalid argument supplied for foreach() in
/galeria_nowa/wp-content/themes/gp/temp/sub-shop.php
on line
72
Warning
: Invalid argument supplied for foreach() in
/galeria_nowa/wp-content/themes/gp/temp/sub-shop.php
on line
72
Warning
: Invalid argument supplied for foreach() in
/galeria_nowa/wp-content/themes/gp/temp/sub-shop.php
on line
72
Warning
: Invalid argument supplied for foreach() in
/galeria_nowa/wp-content/themes/gp/temp/sub-shop.php
on line
72
Warning
: Invalid argument supplied for foreach() in
/galeria_nowa/wp-content/themes/gp/temp/sub-shop.php
on line
72
Warning
: Invalid argument supplied for foreach() in
/galeria_nowa/wp-content/themes/gp/temp/sub-shop.php
on line
72
Warning
: Invalid argument supplied for foreach() in
/galeria_nowa/wp-content/themes/gp/temp/sub-shop.php
on line
72
Warning
: Invalid argument supplied for foreach() in
/galeria_nowa/wp-content/themes/gp/temp/sub-shop.php
on line
72
Warning
: Invalid argument supplied for foreach() in
/galeria_nowa/wp-content/themes/gp/temp/sub-shop.php
on line
72
Warning
: Invalid argument supplied for foreach() in
/galeria_nowa/wp-content/themes/gp/temp/sub-shop.php
on line
72
Warning
: Invalid argument supplied for foreach() in
/galeria_nowa/wp-content/themes/gp/temp/sub-shop.php
on line
72
Warning
: Invalid argument supplied for foreach() in
/galeria_nowa/wp-content/themes/gp/temp/sub-shop.php
on line
72
Warning
: Invalid argument supplied for foreach() in
/galeria_nowa/wp-content/themes/gp/temp/sub-shop.php
on line
72
Warning
: Invalid argument supplied for foreach() in
/galeria_nowa/wp-content/themes/gp/temp/sub-shop.php
on line
72
Warning
: Invalid argument supplied for foreach() in
/galeria_nowa/wp-content/themes/gp/temp/sub-shop.php
on line
72
Warning
: Invalid argument supplied for foreach() in
/galeria_nowa/wp-content/themes/gp/temp/sub-shop.php
on line
72
Warning
: Invalid argument supplied for foreach() in
/galeria_nowa/wp-content/themes/gp/temp/sub-shop.php
on line
72
Warning
: Invalid argument supplied for foreach() in
/galeria_nowa/wp-content/themes/gp/temp/sub-shop.php
on line
72
Warning
: Invalid argument supplied for foreach() in
/galeria_nowa/wp-content/themes/gp/temp/sub-shop.php
on line
72
Warning
: Invalid argument supplied for foreach() in
/galeria_nowa/wp-content/themes/gp/temp/sub-shop.php
on line
72
Warning
: Invalid argument supplied for foreach() in
/galeria_nowa/wp-content/themes/gp/temp/sub-shop.php
on line
72
Warning
: Invalid argument supplied for foreach() in
/galeria_nowa/wp-content/themes/gp/temp/sub-shop.php
on line
72
Warning
: Invalid argument supplied for foreach() in
/galeria_nowa/wp-content/themes/gp/temp/sub-shop.php
on line
72
Warning
: Invalid argument supplied for foreach() in
/galeria_nowa/wp-content/themes/gp/temp/sub-shop.php
on line
72
Warning
: Invalid argument supplied for foreach() in
/galeria_nowa/wp-content/themes/gp/temp/sub-shop.php
on line
72
Warning
: Invalid argument supplied for foreach() in
/galeria_nowa/wp-content/themes/gp/temp/sub-shop.php
on line
72